On this page you'll find all of the Primroses we grow gathered together and then sorted by section botanically. Along with the text which Dawn has added we hope you can find the Primula to best suit your conditions and your taste.
The genus Primula covers over 400 species which inhabit many continents, but almost all come from areas of cool summers with adequate moisture and humidity when in active growth. Although many come from high altitude areas in the Himalayas they will readily thrive in Britain given humus rich soils and shade from the heat of the sun.
Section Primula
This section contains our native species and the Polyanthus derived from them
Primula vulgaris (Primrose)

Whether grown at the front of a formal border or naturalised amongst grass and wild flowers, the cheerful native primrose is always sure to bring a ray of sunshine to the new year garden. We grow Primroses from seed collected from wild primroses growing in the banks of our Dorset nursery. As such you can be assured of getting the true colour, including the occasional flesh pink, rather than the colour sometimes coming from commercial seed. Happiest in a sunny bank. Ideal as a food source for the early bumblebees.
Primula vulgaris subsp. sibthorpii

. (Primula acaulis subsp. rubra) These Primroses look for all the world like our native Primrose which the fairies have painted pink. Their habit and flower shape are just the same but this subspecies hails from the eastern mediterranean and grows in similar shadier and cooler conditions that we associate with our own wild primrose. The flowers are usually purplish pink or rosy red and can flower from february to april.
Primula vulgaris 'Dunbeg' (Kennedy Irish Series)

. A lovely peachy coloured Primrose with a good golden eye and a paler slightly fuffled edge. It contrasts beautifully with the magnificent deep purple shiny leaves. Very hardy and floriferous. February to May
Primula vulgaris 'Avondale' (Kennedy Irish Series)

. A new Primrose with old-fashioned Irish roots. Beautifully shaped Primroses in a multiheaded bloom of rich mauvey-pink. The natural notch in each petal is highligthed by a white flash which dips into the central golden eye, itself enhanced by a strong rose-pink ring. Very floriferous and very hardy. Green foliage. February to May
Primula vulgaris 'Carrigdale'

. A multiheaded primrose with crinkle-edged petals. It is a most subtle shade of blush pink over a creamy white ground, becoming suffused with varying strengths of pink flecks as the blooms mature. Each has a soft green and gold eye. The 12-15 blooms are supported by strong pinkish stems carrying the flowers about 12cm above the nice crinkled green leaves. All the flowers look to be female (pin-eyed) and don't seem to set seeds, giving it a very long flowering season.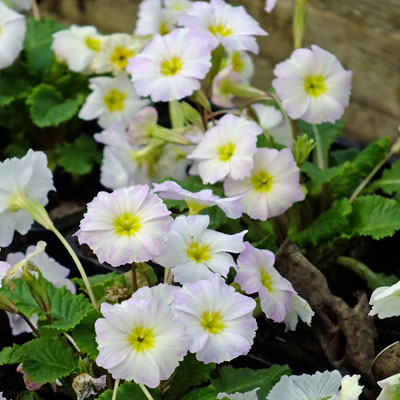 Primula vulgaris 'Innisfree'.

 The darkest beetroot foliage you can imaginetopped with the deepest red primroses. A wonderful complimentray scheme as the blooms shine out from the foliage with their iluminating golden eyes. Very hardy and floriferous. February to May
Primula veris

. Our native Cowslip hardy needs an introduction but sadly its native homes are becoming less common. Charming native primula with lopsided clusters of bright cheery yellow flowers on short stems. Excellent for naturalising in banks or meadows ideally in sunny situations on well drained alkaline soils. In wetter, heavier or shadier spots Primula vulgaris our native primrose is more likely to suceed. If you have ideal conditions and space you may well get enough flowers to make cowslip wine but better still to stick to chardonnay and leave the blossoms for the bumble bees who often pierce the backs of the calyx to sip the nectar.
Primula veris 'Katy McSparron'

. A 'hose-in-hose' cowslip with very double golden yellow flowers like perfectly iced rosettes. The petals are exerted from the green calyx and look up and out well for maximum effect. Very pretty and unusual but without the pollen or nectar source for bees it is best appreciated in isolation. For naturalising, stick to the real thing.